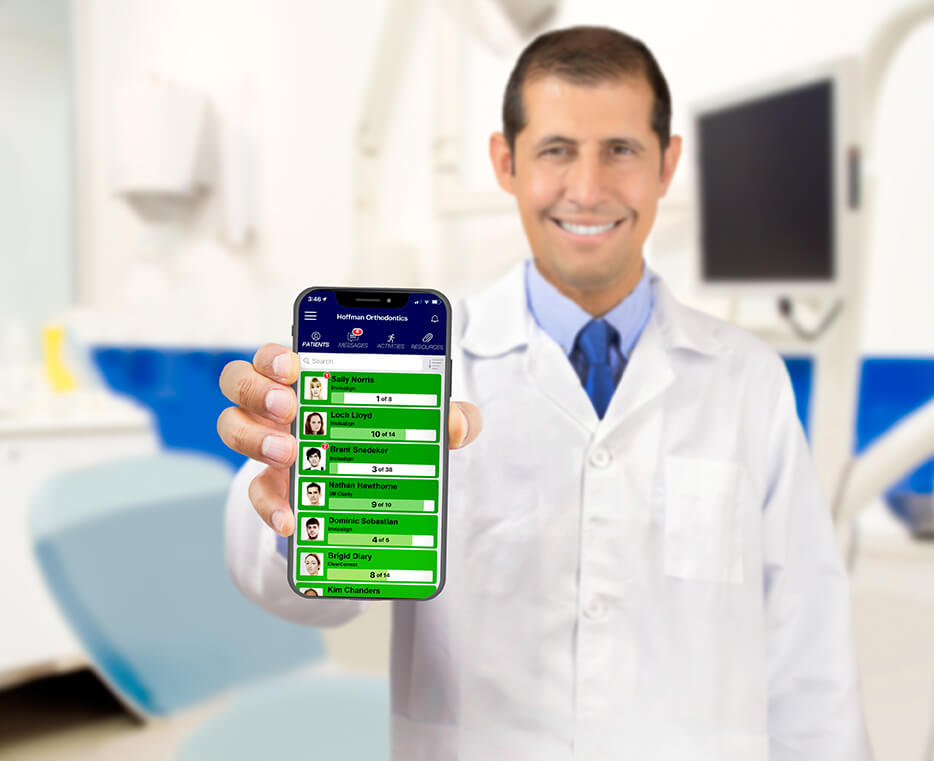 Teledentistry for your Growing Practice
In Hand Dental is a HIPAA-compliant teledentistry platform that connects dentists and orthodontists with their patients. Our solution provides competitively priced recall, remote dental monitoring, lead generation and virtual visits, treatment templates for:
invisible aligners
wired-braces
OSA/sleep-apnea
TMJ
whitening
botox
myofunctional Therapy
In Hand Dental allows doctors to see more patients but with less chair time. Patients receive excellent doctor-supervised care through the app, with features that include:
Teledentistry to help grow your practice, without growing your staff.
As online dental care continues to grow, In Hand Dental provides the competitively priced solution you need. Our plans start at $149 and includes up to 30 patients. See how your practice can make more revenue this year on our profit calculator here.
Want to learn more? Watch our 20-minute demo to see how the
In Hand Dental app, PLUS learn how the app helps you
increase efficiency and see more patients.
Reach new levels of profitability, eliminate wasted time and have your patients smiling quicker by optimizing aligner treatments with In Hand Dental.
We have solutions for every practice size, and can build you a version of our app customized to your brand.
Setting up our teledentistry app takes about 90 minutes.
It's an easy 3-step process:
We set up treatment templates specific to the type of treatment received, such as invisible aligners, traditional braces, whitening treatments, or TMJ and/or sleep apnea. No matter the treatment, our dental monitoring solution will work! We define which presets are needed, from what pictures patients need to submit, the questions they should answer, and the frequency of activity. Everything in our remote monitoring app is designed to keep patients on their treatment plan.
We provide hands on training for you and/or your staff in an easy and simplified way to onboard a patient, and give them best practices and tactics to make In Hand Dental a successful part of your practice.

And you can add your patients no matter where they are in their treatment journey! The In Hand Dental app will automatically chart patient progress and keep the schedule for the patient's aligner changes. Once you load the patient and treatment plan in, it's easy as can be! Spending 10 minutes now saves you hours in the future.
Remember: you still review their scans, answer their questions, and take control of your patients. Worried about the time impact? 
Your staff will spend less than 20 minutes a day on your app
...but those few minutes help you 
eliminate countless hours
 in
chair time
, increasing the number of patients you can take on without adding staff.
It's a win-win for everyone!
The In Hand Dental app is the future of virtual dentistry.
Faster, more reliable outcomes. Fewer time-consuming and confusing visits. Happier patients. The In Hand Dental app is your key to the digital dentistry future.
There's no question that practitioners and patients love using the In Hand Dental app to track everything from treatment protocols for aligners or braces to collecting and sharing sleep apnea data. But really, the In Hand Dental app is also an awesome tool for staying connected to those patients you see only twice a year […]
The idea of giving and receiving an online teeth consultation seemed somewhat foreign to many people in the "pre-pandemic" days. But today, using a dental app to communicate with patients has become a key dental treatment tool. The technology, known as remote monitoring, frees up patients from multiple office visits if they, for example, managing […]
The mobile phone is the newest examination and consultation tool for dentists and it's changing the way practitioners and patients interact on several levels. The phone acts as a conduit to use the latest app for dentists and orthodontists. Also known as remote patient monitoring (RPM), these apps are advancing and enhancing patient relationships – […]